International Wellness Tourism Conference & Festival (IWCF) 2022 Carrying Mission to Make Indonesia a World Wellness Tourism Destination.
There are five main activities in IWTCF 2022, namely conferences, workshops, exhibitions, business matching, and field trips. The implementation of IWTCF 2022 will be carried out for 3 days with the theme "Sustainability Strategy for the Recovery and Growth of World Tourism through Wellness Tourism for All" and involves participants from associations/organizations/industry actors related to wellness tourism from G20 countries, ASEAN, and Indonesia".
---
For 3 days, the conference event will be divided into several topics of discussion, including the Health & Wellness Tourism Framework; Wellness Tourism Destinations; and Inclusive Wellness Tourism, Investment, Opportunity, and Capacity Development. Every day at the conference, there will also be wellness moment sessions filled by trainers of Indonesian wellness methods. In addition to providing information, this wellness moment will directly involve participants (interactive), including delegates, to follow the directions of the trainer.
In addition to conferences and workshops, as one of a series of events at IWTCF 2022, there will also be exhibitions (b2c) and business matching (b2b). At the event, Kemenparekraf/Baparekraf will provide space for around 30 booths, to showcase Indonesian wellness products. Alexander explained that the categories of exhibitors are expected to include 8 types of wellness economy categories which refer to the guidelines from the Global Wellness Institute (GWI), as an organization / institution that conducts research and determines trends in the wellness sector globally based in America. The eight types of wellness economy are, personal care and beauty, healthy eating and nutritious weight loss, physical activities, wellness tourism spa and spring, traditional complementary medicine, public health preventive and personalized medicine, wellness real estate, and mental health.
Meanwhile, in business matching activities, there will be a meeting between sellers and buyers. With the potential that Indonesia has, I hope that IWTCF 2022 will open up many opportunities for actors to develop potential cooperation between the wellness trip/tour industry, gain and share knowledge related to wellness education, as well as introduce products and opportunities for investment in the wellness sector.
Solo will be the location for conferences, workshops, exhibitions, business matching, and field trips. This activity will invite delegates to do "work tours" to Solo, Yogyakarta, and Bali (Ubud) to find out the potential for wellness tourism there. For the implementation of the field trip, the plan is to involve specific tour operators and have an understanding of wellness tourism.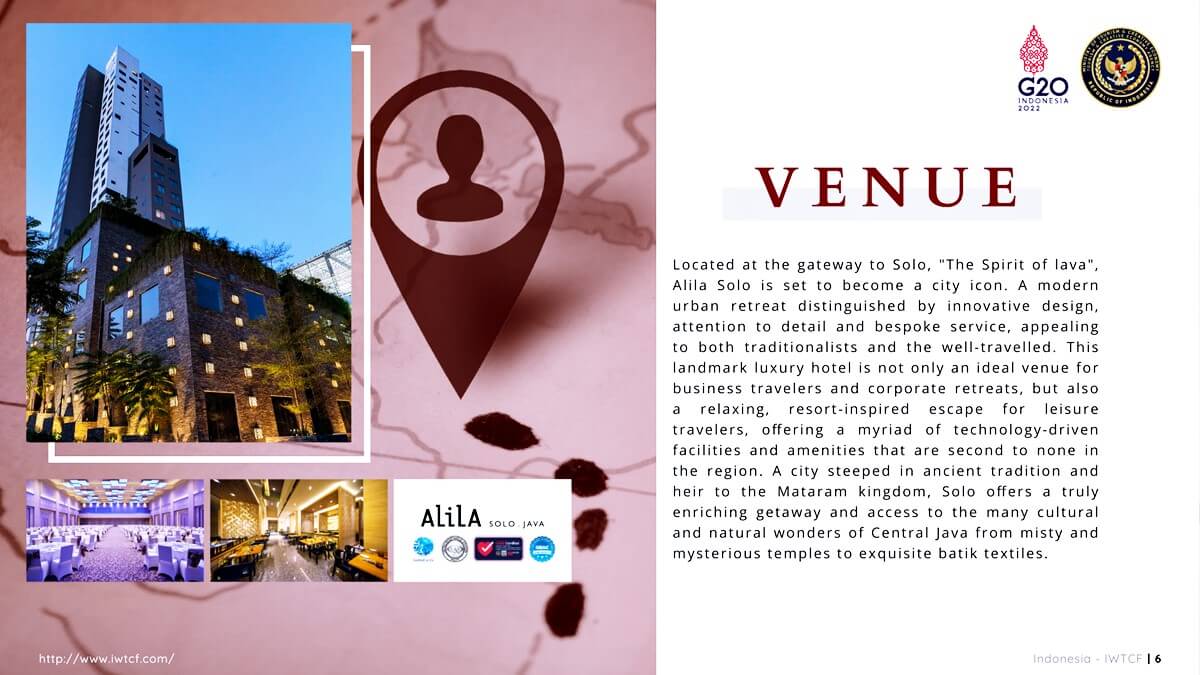 Delegate Registration Form
Workshop Day 1
Topic I – Healthy Food for Culinary Experience (16.30 – 17.30)
Topic II – DIY (Do it Yourself) Experience of Indonesian Aromatherapy (16.30 – 17.30)
Topic III – "Thank You" Meditation Experience, Legacy of Suwarnadwipa Guru from Sriwijaya (16.30 – 17.30)
Workshop day 2
Topic I – Complementary Therapy: A Combination of Medical & Alternative for Mind, Body, and Spirit (16.00-17.00)
Topic II – Jamu Making (16.00-17.00)
Topic III – 5 Cornerstones of Indonesia Food Culture (16.00-17.00)
Workshop day 3
Topic I – Usada Nusantara (16.00-17.00)
Topic II – Modern Twist of Jamu (16.00-17.00)
Topic III – Traditional Spa (16.00-17.00)
Table
Rp12,000,000
– Dress table incl. chairs 100cm x 300cm
– 3 days expo
– 1 ticket to the seminar
– electricity plug 2 amp
Partition Booth
Rp20,000,000
Booth incl. table & chairs 200cm x 300cm
3 days expo
1 ticket to the seminar
electricity plug 2 amp
Space Only
Rp22,000,000
Booth space 300cm x 300cm
3 days expo
2 tickets to the seminar
electricity plug 2 amp